The reviews are in, and the selections have been made. The 2013 edition of the DesignCon technical program is now available for your perusal.
Once again, the technical program committee was faced with choosing the best from a strong field of submissions, and once again, they performed the task with enthusiasm and professionalism. The 225 proposals for papers, panels, and tutorials they reviewed represent a slight increase over the number received for the 2012 program. From the committee's comments and feedback, it's clear that the quality of the submissions across all tracks meets or exceeds the high standards DesignCon attendees have come to expect.
As it does every year, the DesignCon program reflects the current interests and concerns of the electronic design community. Our process for soliciting proposals and selecting papers ensures this.
In this blog installment, I will provide an overview of the selection process, highlighting how we follow the evolution of electronic design practice from year to year. In future blogs, I will take a deeper look at the trends evident in some of the conference tracks and even individual papers.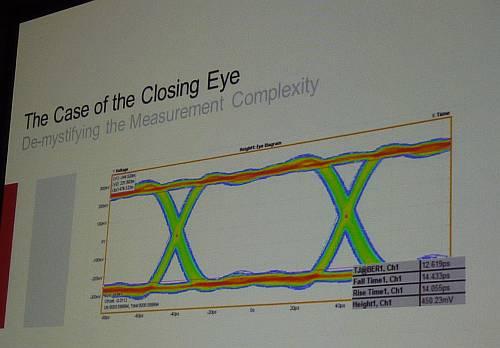 The making of the DesignCon technical program starts with a meeting of the program committee in the spring, a mere few months after the latest DesignCon event concludes. After reviewing the previous program, we look ahead to the next one and discuss the topics it should cover. After a thorough and lively discussion, the result is a Call for Papers with updated tracks and topics.
With the prior year's Call for Papers as the starting point, we know that many tracks and topics come from previous programs, reappearing year after year. Consequently, the changes that do occur take on special significance because they result from thoughtful consideration by the program committee.
Here are some changes in the Call for Papers you will see reflected in several of the conference tracks for the 2013 program:
"RF" has been added to Track 2, making it the "Analog, Mixed-Signal, and RF Design and Verification Track." The change recognizes the integration of RF communications as driving much of the activity in mixed-signal design.


The focus of Track 3 has broadened from FPGA-specific issues to programmable architectures in general.


Track 9 is now entitled "Jitter, Crosstalk, and Noise Analysis" to emphasize the need to address the challenge of crosstalk in high-speed signaling designs.


"Signal Propagation Analysis Techniques" has replaced "RF/Microwave Techniques for Signal Integrity" as the title of Track 14 to better convey the relevant issues for DesignCon attendees in this area.
Issuing the Call for Papers is just the first step in building the program. Tracking the interests of the community continues as prospective authors respond to the Call for Papers over the summer, proposing to share what they have learned as they face their latest design challenges.
I will pick up with how they responded on some specific topics in future blog posts.