In my previous blog, I discussed why persistence can help you become a measurement master. To become a master at VNA measurement, you need to understand all the relevant elements.
"Engineers solve problems, capital equipment are only tools" is a good maxim for achieving confidence and mastery when making difficult measurements. Becoming good at measurement methodology involves awareness and dedication. The pinnacle of that endeavor is the path toward becoming a measurement master. Here's my list (in no coherent order), of what I think is involved. Please post your contributions to this list as comments.
Have a complete understanding of types of calibrations and terminology. For example, learn about insertable versus non-insertable calibration, hybrids, partial calibrations, etc. Also have the ability to graphically describe a measurement setup.


Extrapolate to DC without destroying the S-parameter causality and distorting time-domain convolutional-based simulation.


Understand the underpinnings of SOLT (Short-Open-Load-Thru), TRL (Through reflect line), LRM, SOLR, and perform those calibrations.


Understand the limitations of your VNA, including IF bandwidth, number of points, averaging impact on S/N and associated Source/Load matching, Directivity, and general error models.


Design on-board TRL calibration that achieves good calibration results approaching 50GHz using readily commercial signal launches.


Develop the ability to perform consistent calibrations (even hybrid and multi-tier), resolve issues with calibration problems, and verify the calibration with external standards.


Understand the measurement requirements based on the DUT response. For example, a low-loss short interconnect is different than a 5M Twin-Ax cable assembly -- what is important in relation to the DUT.


Learn to interpret single-ended, differential, and modal S-parameters based on a structures topology and layout.


Interpret crosstalk, both in relation to a backplane or complicated interconnect, and from the receiver perspective.


Make any S-parameter measurement required in compliance specification, such as 10G KR, 25G Ethernet, etc.


Correspond S-parameters with TDR and VNA time-domain gated methods (technically not part of the VNA). I would add the ability to establish time-domain, measure-based models as well, using either IConnect or Agilent ADS.


Interpret frequency domain salient features of classic structures like stubs, resonators, Beatty Standards, etc.


Demonstrate the ability to prevent passivity issues and minimize causality problems, correcting minor passivity issues.


Generate Rational Compact models of S-parameter data, and understand why this is a useful tool.


Create a multi-port S-parameter matrix from 2 and 4-port analyzer (for 12-port crosstalk aggressed systems, for example).


Learn to Gauge connectors/adapters and identify bad ones. Have the ability to buy the right VNA cables and create a complete adapter kit.


Communicate a clear Lean-5S type work flow using VNA, TDR, etc., if you're working in manufacturing or providing direction.
I welcome your input and suggestions in the comments below. I consider this list incomplete.
Letís digress and discuss a more global concept: How long does it take to become an expert in any given area of human activity? In his popular book, The Outliers, Malcom Gladwell puts forth a basic maxim of mastery: It takes 10,000 hours to become an expert in anything. If this is true, then that means you can become good at anything, given you put in some serious time. The time issue is really a reflection of the level of commitment of the individual.
In upcoming blog posts, Iíll address tips, tricks, observations, and methods that I have found valuable on my personal journey towards becoming a measurement master.
Examples of blog posts:
Calibration doesnít work, now what?
What is a Beatty Standard, and why you should know about it?
Simple Calibration checks to insure Causal/Passive Measurements
Validating your TDR derived S-parameters: Are these tools useful? Do they even work?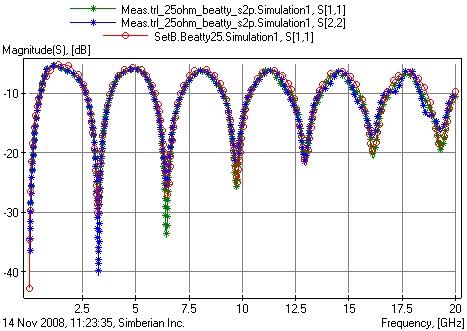 Please add your comments to grow the Master Measurement List. Weíre thinking about doing a time-domain version as well.


High speed digital chip-to-chip link performance is often limited by jitter in the multigigabit per second regime. It is a surprising fact that jitter can actually be amplified by a lossy channel even when the channel is linear, passive, and noiseless. In this webcast we will cover the basics of jitter amplification and show you how to accurately analysis the effect in your system using ADS Channel Simulator.